1 2 3 4 5 6 7 8 9 10 11 12 13 14 15 16 17 18 19 20 21 22 23 24 25 26 27 28 29 30 31 32 33 34 35 36 37 38 39 40 41 42 Next > >
28 November 2019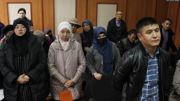 Eight prisoners of conscience have lost their appeals against long jail terms for discussing Islam on a WhatsApp group. Almaty City Court rejected the appeals on 20 November in their absence. Even before the decision came into force, the authorities transferred them to often distant labour camps. One is in a Shymkent camp, where another Muslim was tortured.
26 November 2019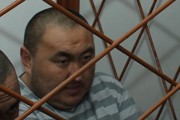 Despite a serious heart condition – possibly needing an operation - Zhuldyzbek Taurbekov's criminal trial begins at Almaty's Investigation Prison No. 18 on 3 December. Eight arrested with him 13 months ago for participating in a WhatsApp group on Islam have already been jailed. Only six people – including only one relative – are allowed to attend the "open" trial.
14 November 2019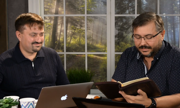 An Almaty court has jailed three pastors in absentia for between four and five years in a case described by one human rights defender as "complete drivel". New Life Church has been told its problems will end if it pays money to officials or collaborates with the secret police.
19 August 2019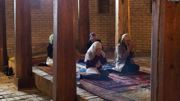 A Muslim complains of six years' intrusive police questioning about his faith: "These are my personal beliefs they are asking about." The Interior Minister denied that police questioned Yerlan – most recently on 20 July - because of his faith. The Interior Ministry says 23,000 are on a register of adherents of "destructive religious movements". Rights defender Yevgeny Zhovtis says no such category exists in law.
13 August 2019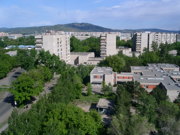 Officials harassing founders of religious communities, possibly trying to block applications to exist. In May 2019 police began harassing Oskemen's New Life Church founders as it sought re-registration. Officers visited several late at night, threatening one woman in her late 70s. Aktau's Hare Krishna community has faced similar harassment.
5 August 2019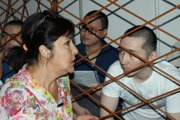 An Almaty Judge jailed eight Muslims for between five and a half and eight years for participating in a WhatsApp religious discussion group which the KNB secret police claimed promoted "propaganda of terrorism" or "inciting hatred". The men denied the charges. The ninth man is due for trial later as he is suffering serious heart problems.
31 July 2019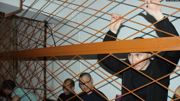 Eight Muslims face up to nine years' jailing each for participating in a WhatsApp religious discussion group. The KNB secret police initiated the criminal charges of "propaganda of terrorism" or "inciting hatred", which the defendants deny. The verdict is imminent. The case against the ninth – who is suffering serious heart problems – will be heard at a future trial.
19 July 2019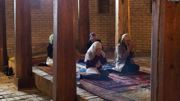 Administrative prosecutions to punish exercising freedom of religion or belief appear to be rising. At least 108 cases were brought between January and June to punish unapproved worship, sharing faith, selling religious literature and items in shops or online, or using "Amen" in mosque worship. In three cases, courts ordered seized religious literature to be destroyed.
11 July 2019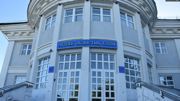 Bolat Isabayev was fined for leading a home worship meeting on the most sacred day annually for Jehovah's Witnesses. A court fined two ethnic Azeri imams in Zhambyl Region for maintaining funeral prayer rooms without state approval. Police fined or tried to fine up to 20 members of Karaganda's Revival Protestant Church after raiding a birthday party.
21 June 2019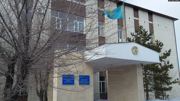 Kazakhstan has banned three books by authors associated with the banned Tabligh Jamaat Muslim missionary movement. A Prosecutor's Office official claimed to Forum 18 that the three books include calls to "extremism and terrorism", but neither the court nor "expert analyses" backed this. "We don't have censorship, we just check the content of religious publications," another official claimed.
1 2 3 4 5 6 7 8 9 10 11 12 13 14 15 16 17 18 19 20 21 22 23 24 25 26 27 28 29 30 31 32 33 34 35 36 37 38 39 40 41 42 Next > >