1 2 3 4 5 6 7 8 9 10 11 12 Next > >
19 December 2018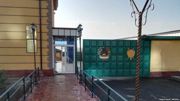 Around 50 prisoners killed in suppressing a Khujand Labour Camp riot were denied religious funerals. Officials banned washing of bodies or any Islamic prayers. Sugd Police Deputy Head claimed statements that families were not allowed to bury their dead according to Muslim rites were untrue. "Whoever says that is lying!"
18 December 2018
Secret police arrested Mukhtadi Abdulkodyrov for being a Salafi Muslim, two days after his return to Tajikistan from Saudi Arabia. He had written a letter of "repentance". Police opened a criminal case against Jehovah's Witness Mujibahon Isanova for complaining about a teacher's bullying of her eight-year-old son.
5 October 2018
Tajikistan continues beard and hijab-wearing bans, and has forced one couple to divorce. Police set up a roadblock to enforce the bans, which are also been enforced in schools and universities. Officials have refused to give Forum 18 a legal reason for the bans.
27 February 2018
Prisoner of conscience Daniil Islamov is preparing to appeal for the last time to Tajikistan's Supreme Court against a six-month jail term for refusing compulsory military service. If this appeal is rejected, he is likely to appeal to the UN Human Rights Committee.
26 February 2018
Tajikistan has claimed to have closed almost 2,000 mosques in 2017. Officials claimed they were closed at the request of local residents, but have not been able to explain why they only allow mosques with a capacity far below the possible numbers of worshippers.
19 February 2018
Religion Law amendments allow the state to restrict freedom of religion or belief on illegitimate grounds, increase religious communities' reporting obligations, require state approval for all imams, and increase state control on religious education. "The Law represents total control and is unjust", human rights defender Faizinisso Vokhidova stated.
5 December 2017
Despite "mistakes" in the verdict jailing Jehovah's Witness conscientious objector Daniil Islamov for six months, the Supreme Court failed to overturn it. Jailed Protestant Pastor Bakhrom Kholmatov has chosen not to appeal further. Police and secret police raided a Protestant church's worship and fined a church member.
4 December 2017
At least nine Muslim men – including an imam and a well-known heart surgeon - are known to have been jailed as prisoners of conscience since August in the northern Sogd Region in three separate cases. All received five years or more jail terms. Officials refused to explain what they had done wrong.
20 October 2017
Jehovah's Witness conscientious objector to military service Daniil Islamov has been jailed for six months. And the government has imposed highly intrusive Mourning Regulations ordering among other things: "Crying while grieving for the dead is allowed. But crying and wailing loudly .. is forbidden".
12 September 2017
Teachers were banned from attending mosque on Muslim festival Id al-Adha. They and children were forced to attend school, even though the state declared it a holiday. Officials banned haj pilgrimage returnees from holding celebratory meals. Traditions Law amendments and increased punishments have come into force.