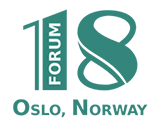 The right to believe, to worship and witness
The right to change one's belief or religion
The right to join together and express one's belief
Please note that subscribers who choose to receive every article when published will also receive the weekly news summaries.
Subscribing and unsubscribing by e-mail
To receive every article when published, send an empty e-mail to:
f18news-eurasia+subscribe@forum18.org
To receive weekly news summaries only, send an empty e-mail to:
f18news-weekly+subscribe@forum18.org
To stop receiving every article when published, send an empty e-mail to:
f18news-eurasia+unsubscribe@forum18.org
To stop receiving weekly news summaries, send an empty e-mail to:
f18news-weekly+unsubscribe@forum18.org
TO COMPLETE the subscribe or unsubscribe process YOU MUST REPLY TO A CONFIRMATION E-MAIL THAT WILL BE SENT TO THE E-MAIL ADDRESS THE REQUEST IS SENT FROM. If you reply from a different e-mail address the process WILL NOT be completed.
Web buttons for Forum 18
120 × 60 pixels

120 × 90 pixels
Privacy Policy and Terms of Use
Forum 18 thinks internet users have a right to personal privacy and unmonitored navigation of the internet.
In the course of providing the best possible service to our readers, we collect two types of information: e-mail addresses provided to us by visitors wishing to subscribe to Forum 18 publications via e-mail; and aggregate statistical data used to track website usage.
E-mail addresses
Subscribers to Forum 18 e-mailed articles and weekly news summaries voluntarily supply their e-mail addresses to receive articles and weekly news summaries. Forum 18 will under no circumstances make e-mail addresses used for this purpose available to unauthorised persons (including unauthorised staff and Board members) or to any third party, nor will subscriber lists be shared internally for any purpose other than distributing the articles and weekly news summaries. Subscribers may unsubscribe at any time by following the directions published in the e-mailed articles and weekly news summaries and posted on the website. If they experience problems unsubscribing, they may contact the Editor at f18news AT editor.forum18.org
Forum 18's website is hosted in Sweden by Binero, which treats personal data with the utmost respect for privacy and applicable legislation. Binero servers are located in Sweden and subject to Swedish law, and subscribers' e-mail addresses are stored in Sweden.
Statistical data
Like most web publishers, Forum 18 aggregates data when users visit the Forum 18 website. The purpose of this data collection is simply to count how many people come to the site, which countries they come from, which pages they view, etc. This data collection process does not enable Forum 18 to identify any individual, only that a computer with a specific number is accessing the web server. The software we use to create reports from this data relies on a standard browser feature called a cookie to track which web pages visitors view on the site. These cookies are assigned at random with each newly created visitor session, and are deleted after the visitor leaves the site. Reports generated by this data collection are used internally to improve the site and provide better value to our users based on their news consumption patterns.
Links to external sites
Forum 18 provides on its website links to sites maintained by persons or entities not affiliated with Forum 18. These include links to sites such as social media providers, Google translate, and Google search. In deciding whether or not to within the text of an article place a link to an external site on its own website, Forum 18 gives preference to non-profit, non-partisan entities devoted to public service. Forum 18 has no control over any of these external sites and does not necessarily endorse their content, operators, products, or services. Furthermore, Forum 18 is not responsible or liable for the content, operators, availability, accuracy, quality, advertising, products, services, or other materials on or available from such sites. Forum 18 shall not be responsible or liable, directly or indirectly, for any damage or loss caused or alleged to be caused by or in connection with use of or reliance on any such content, products or services available on or through such sites.
Online financial donations
Trustbridge Global Foundation processes donations for Forum 18 under Trustbridge's own Terms and Privacy Policy. Forum 18 does not receive or have access to any financial or other information provided by a donor to Trustbridge Global Foundation, except for the donor's name and the amount of the donation.
Please direct questions regarding Forum 18's terms of use and privacy policy to the Editor at f18news AT editor.forum18.org
Reporting Misconduct
Forum 18 has zero tolerance for unethical and/or illegal behaviour, and accordingly a low threshold to report on such misconduct. All such reports will be independently assessed via our partner the Norwegian Helsinki Committee (NHC). In cases where life and health are at risk, or in cases of discrimination, harassment or bullying, corruption, or the abuse of power, please report this as soon as possible using the NHC's reporting misconduct procedures. All such cases involving Forum 18 will then be considered using the NHC procedures with appropriate Forum 18 representation.